What is "Thematic Collecting"
There are no limits to a thematic collection in terms of what is collected and how it is to be arranged. A collection can be composed of various philatelic objects, such as   
    stamps (with or without: souvenir sheets, stamp books, complete sheets, local/personalized issues, ...)
   

postal stationeries


   

meter marks


    perfins
    cancellations

    cancellations of courier services

    FDC, Maxi-Cards
Letters with imprint of bicycle manufacturers, associations, clubs
, ...
…
On the subject of bicycles, the available material is not as extensive as in railways, but nevertheless there is material in abundance. For example one could build up a very extensive special-collection alone with cancellations of the Tour de France stages. Therefore one will

restrict oneself

to certain objects (e.g., stamps only) or certain sub-topics (e.g., sports only) - at least at the beginning of ones collecting activity.
Of the well-known publishers no catalog on the subject of bicycles exists. So you don't have to strive to be complete as possible.

There is also no subscription: so you have to go hunting and you can personally decide what you want to bring home. Good luck and have a lot of fun.
Cancelled or mint?
In most thematic collections cancelled and mint stamps are peacefully combined. Hardly anyone will have the idea to build up a cancelled and a mint collection in parallel. Nevertheless there is a tendency to mint stamps, since the motive is not affected by a cancellation. In case of a small bicycle illustration, a cancellation can lead to a total disappearance of the bicycle: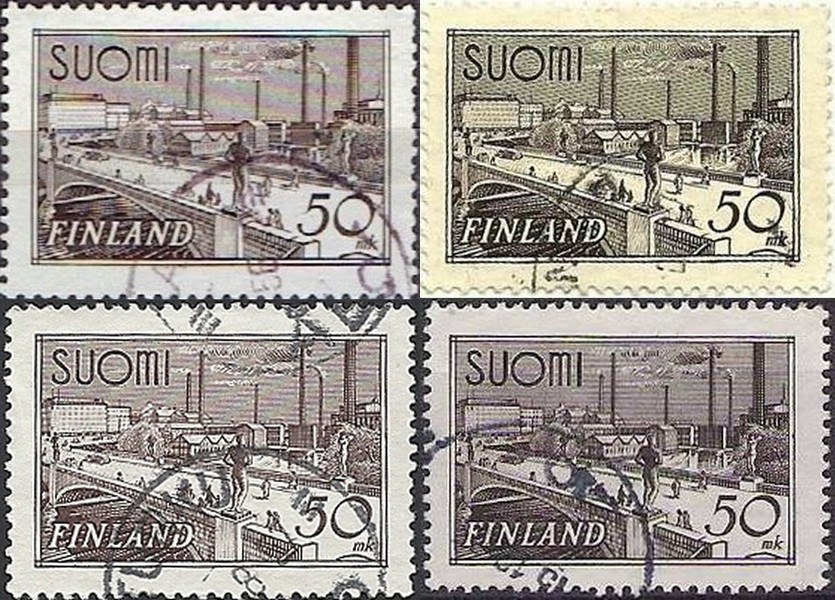 There it is: Aha! mint!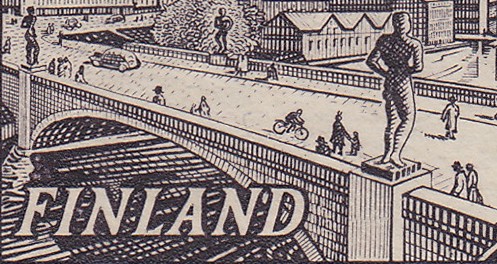 On the other hand, a cancellation speaks and with this additional information, it is usually possible to draw conclusions as to whether the stamp is a real stamp or only a piece of paper that was printed in order to pull the money out of our pockets. Have you ever seen this object on a genuine used letter?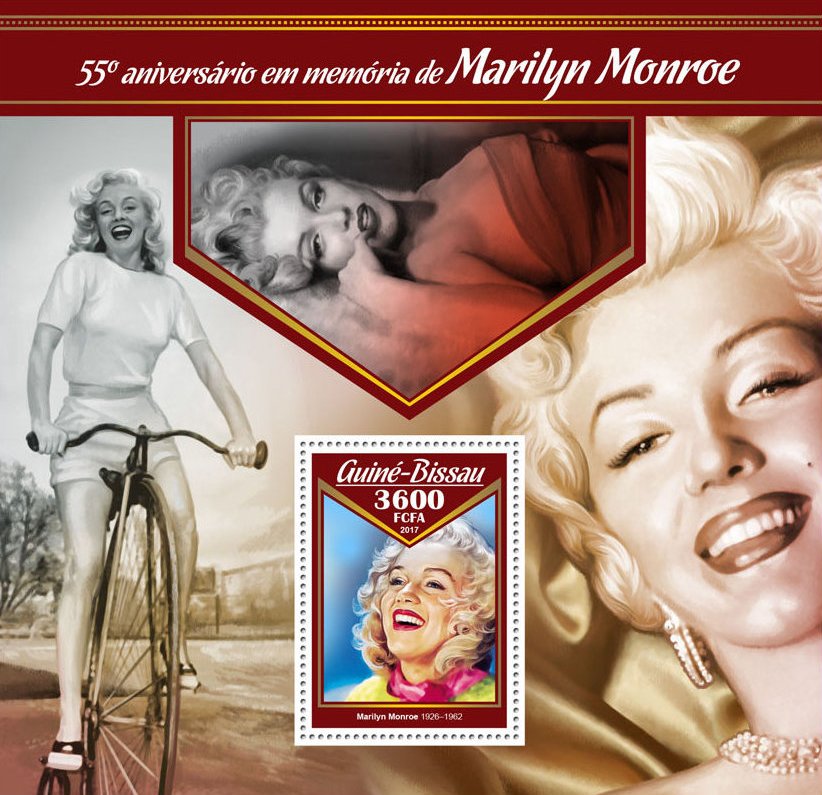 Not me. Some "gum collectors" will have problems to find mint perfins and will accept the primitive cancellation and handwritten doodle on this stamp: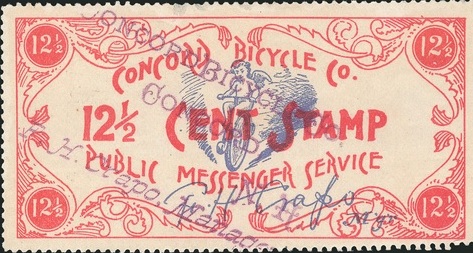 Purchase
The easiest way is: note the RE-numbers from the online catalog of this website and send them to your dealer - together with a link to BICYCLE PHILATELY (https://bicyclestamps.de/). On the website the dealer finds all required data (country, date of issue, issue occasion, face value) by using the search function (registration required). The additional information the image provides is particularly important when ordering complete sheets. This means that you are independent of the standard catalog numbers, which are often published only years later. This saves you from going to the public library or to your club house. (Nowadays most of the public libraries in Germany only provide a limited number of catalogs for cost reasons.)
Purchase in the internet: if you enter the terms "bicycle & stamps" on Google you will be shown millions of sites: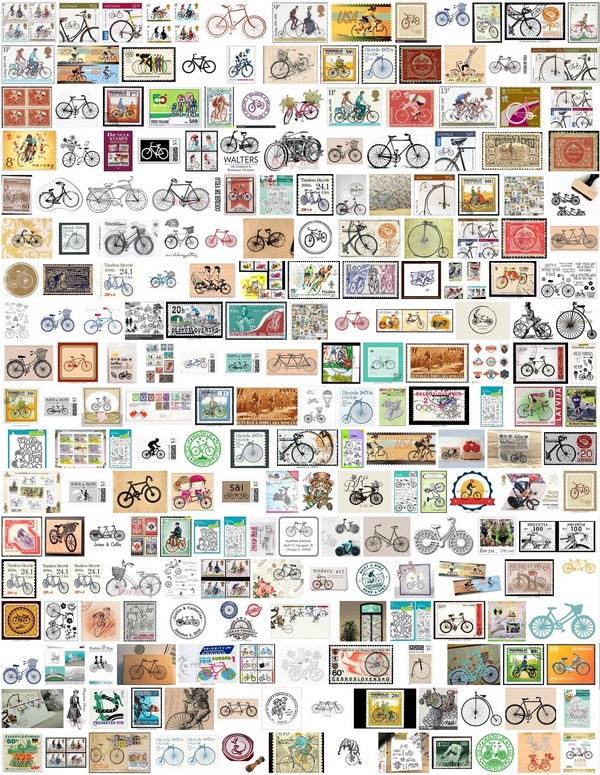 Many of these links lead to the auction platforms of ebay, delcampe, .... As an advanced collector, one will rarely buy more than 2 or 3 items from a vendor. Disadvantage: comparatively high additional fees for postage, PayPal and eventual customs are added.
At major online shops, such as Postbeeld, you can reduce the relative proportion of shipping costs by purchasing multiple articles. However, dealers mostly offer only complete sets. There are also specialized shops, for example for modern German local stamps: Briefmarken Haller (out of business), Private Post aktuell, ...

New issues can also be ordered directly from postal administrations. This saves the dealer markup. Sometimes a free shipping is offered from a certain order sum, e.g Switzerland, ...

From time to time, larger thematic collections are offered at auction houses. These are a good basis for beginners. Disadvantage: the hunting factor is missing and for the advanced collector they often contain too many duplicates.  Bids can be placed by phone, fax or email these days. Rare bicycle stamps find their new owner mostly through these auction houses.
Check the category ADS (advertisements) of this website from time to time – maybe something interesting is offered there.
Single stamps - complete sets
It is your fundamental decision to collect either single stamps or complete sets. Dealers like to sell complete (mint) sets of stamps - that brings more turnover. Collecting complete sets facilitates resale, but the amount of money, space and administration needed is enormous. 
Stamps with a catalog value below 5 € have actually no real value - unless they are mint and still valid for postage. They are available in abundance - the demand of all interested collectors can easily be covered. The purchase price is to be regarded rather as payment on the merchant service. Accordingly, it will be difficult to recover the originally paid price on a resale. One reason more to collect single stamps instead of sets.
Collecting single stamps instead of sets is sometimes also not so easy: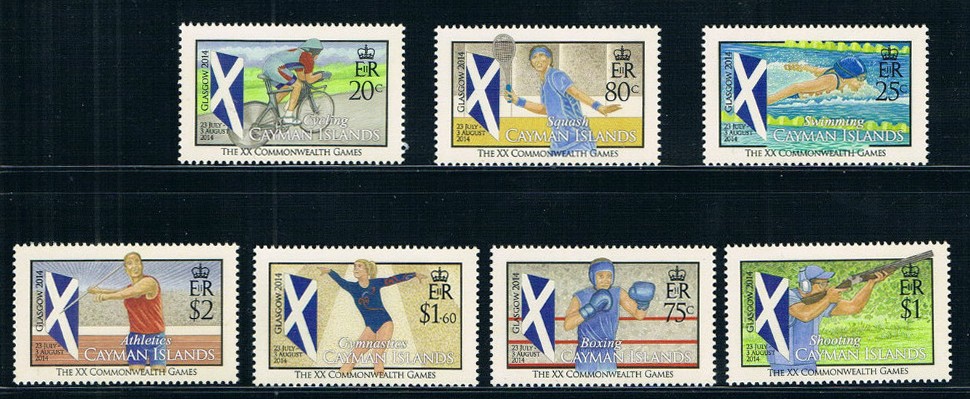 In this example the stamp with the lowest face value of 20 cents is the only one of interest for us and not the whole set of seven (face value: $ 6). There are two possibilities:
   you can buy a used 20 c stamp, which probably is also offered as single item or
   you purchase a complete mint set and resell the stamps not needed on the platform of an internet auction house. This is very time-consuming and the gymnastics and swimming stamp will never find a buyer.

Do you have an alternative? Then please send an email to This email address is being protected from spambots. You need JavaScript enabled to view it.
Storage
There are no pre-printed albums for a bicycle motif collection. Maybe that's a good thing. Starting with a stock book most of us collectors will land sooner or later with loose, self-designed pages which offer a lot of design freedom: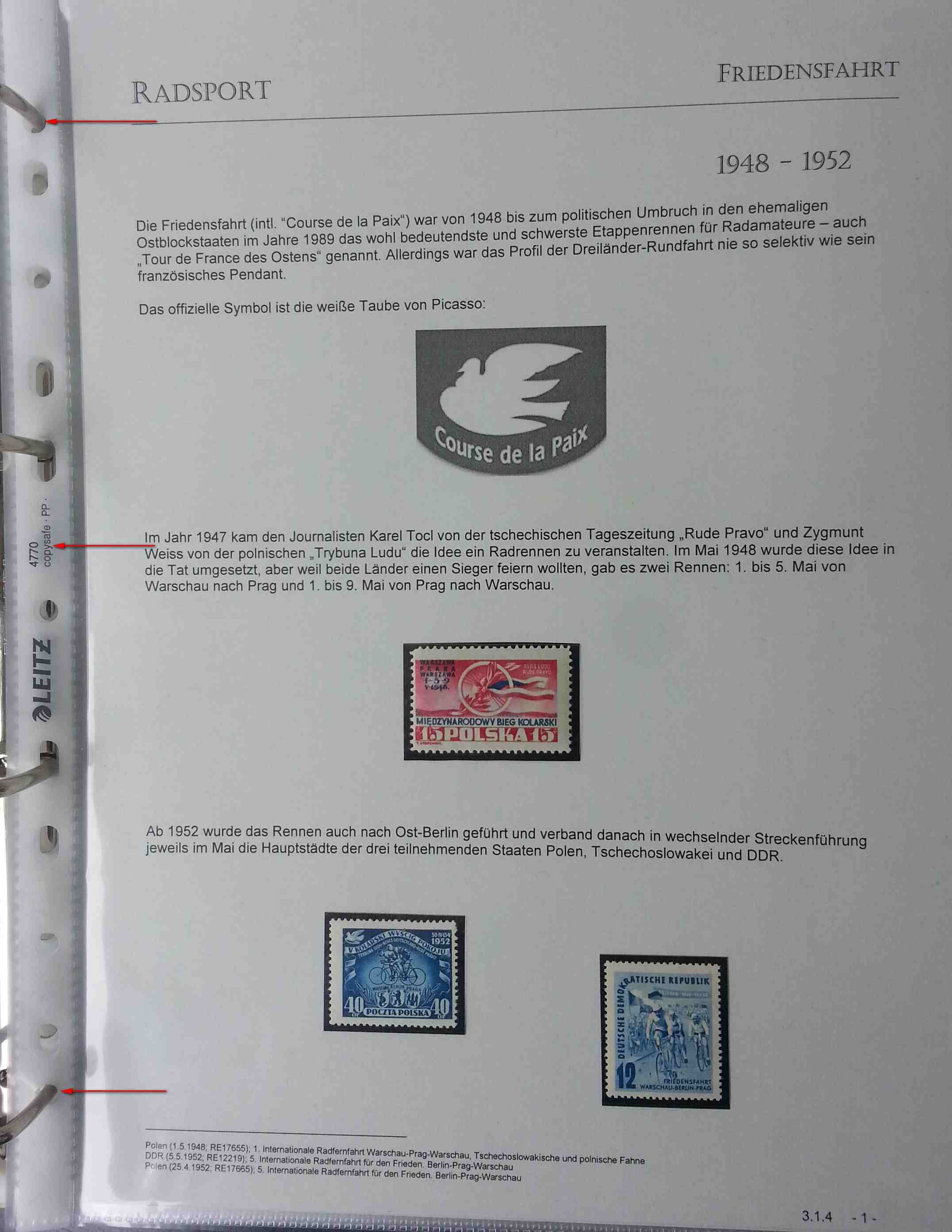 Recommendations for the protection of stamps:
    thick paper: > 160 g/m² (if a printer is to be used, make sure that it can pull through this paper thickness)
    quality mounts, e.g Hawid, ...
    copysafe/documentary (clear) cover, PP
    folder with 4 rings
 With loose pages you have more work than with stock books, but you remain flexible and do not have to reorder so frequently when new entries are to be stored.
Arranging
"Topic collection": the stamps are arranged according to the classical method - as the catalogs do:
continent
    country
       year
          issue date
"Thematic collection": It makes sense and is more common to arrange a thematic collection by theme, e.g. historical development, Olympic Games, postal delivery, ...  All listed items in the online-catalog are assigned to one of the following categories: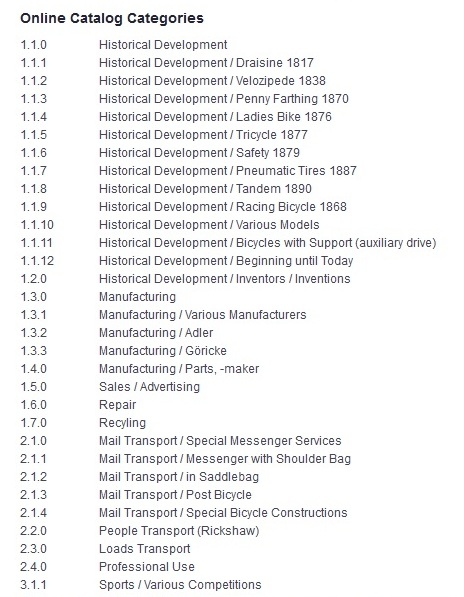 ... ... ... ... ... ... ... ... ... ... ... ... ... ...

The more detailed your categorization is, the more frequently it will happen that you can assign a stamp to more than one of the above categories. So you will need a good memory or a separate list to find your stamps again.
Exhibiting
A thematic collection usually includes a brief description of selected objects. These may be philatelic notes (e.g. peculiarities of perforation, of watermarks, of printing, etc.) or background information of any kind. These descriptions are not just as a thought-support for yourself – they are an information for other interested parties - not just philatelists. The internet offers wonderful research possibilities. The multitude of information found will force you to compress the descriptions.
But who is interested in our work? Lucky is the one, whose wife (or husband) or even whose children are infected by his passion for collecting. But usually you have to be happy if your own family tolerates your activities. Collecting friends are much more open-minded. A small presentation at the stamp club meeting is a welcome addition to all participants. Other suitable places could be
the pub around the corner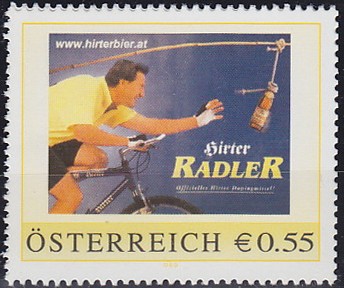 the bicycle shop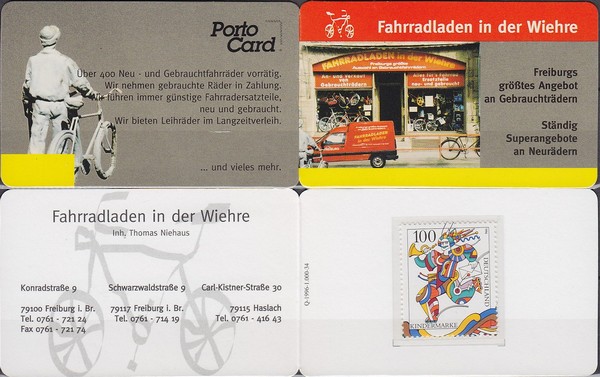 the waiting room at the doctor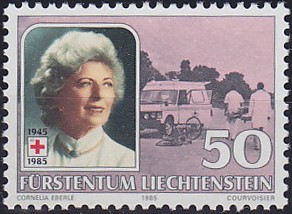 a bicycle museum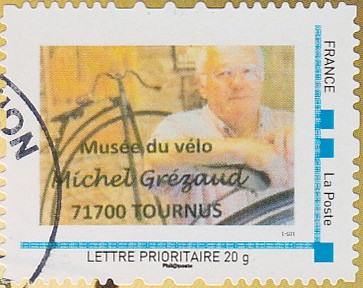 or the savings bank, a cycling event, .... With the abundance of available bicycle stamps the selection of exhibited stamps can be adapted to the locality or to the occasion.   
Official stamp exhibitions such as you find on stamp fairs are subject to strict regulations. Here, the motif becomes easily a minor matter. Something for the more advanced collector who likes to compete for points and medals. 
If you send scans of your own collection/exhibition to This email address is being protected from spambots. You need JavaScript enabled to view it., they will be uploaded to this website (category LINKS - scroll down to "Virtual Exhibits"). In this way a large number of interested parties is reached. You can then surprise your friends and fellow collectors with a referring link. I'm waiting for your email.
**********************   SUMMERY   **********************
There are no rules
(if you are not exhibiting)
Let your own taste and interest be your guide.
************************************************************
---
 References:
"Stamps On Wheels" by Gabe Konrad, published in "On the wheel"  -  Bicycle Stamps Magazine no. 33, page 28

 "Storing Your Stamp Collection" by Gábor L. Konrád  -  Bicycle Stamps Magazine no. 35, page 28

1. "Das Sammelgut für die Motivsammler";    2." Ausarbeitung einer Motivsammlung" by Hans-Walter Bosserhoff

"Thematic Philately" by John Hayward
---