Perfins – Stokvis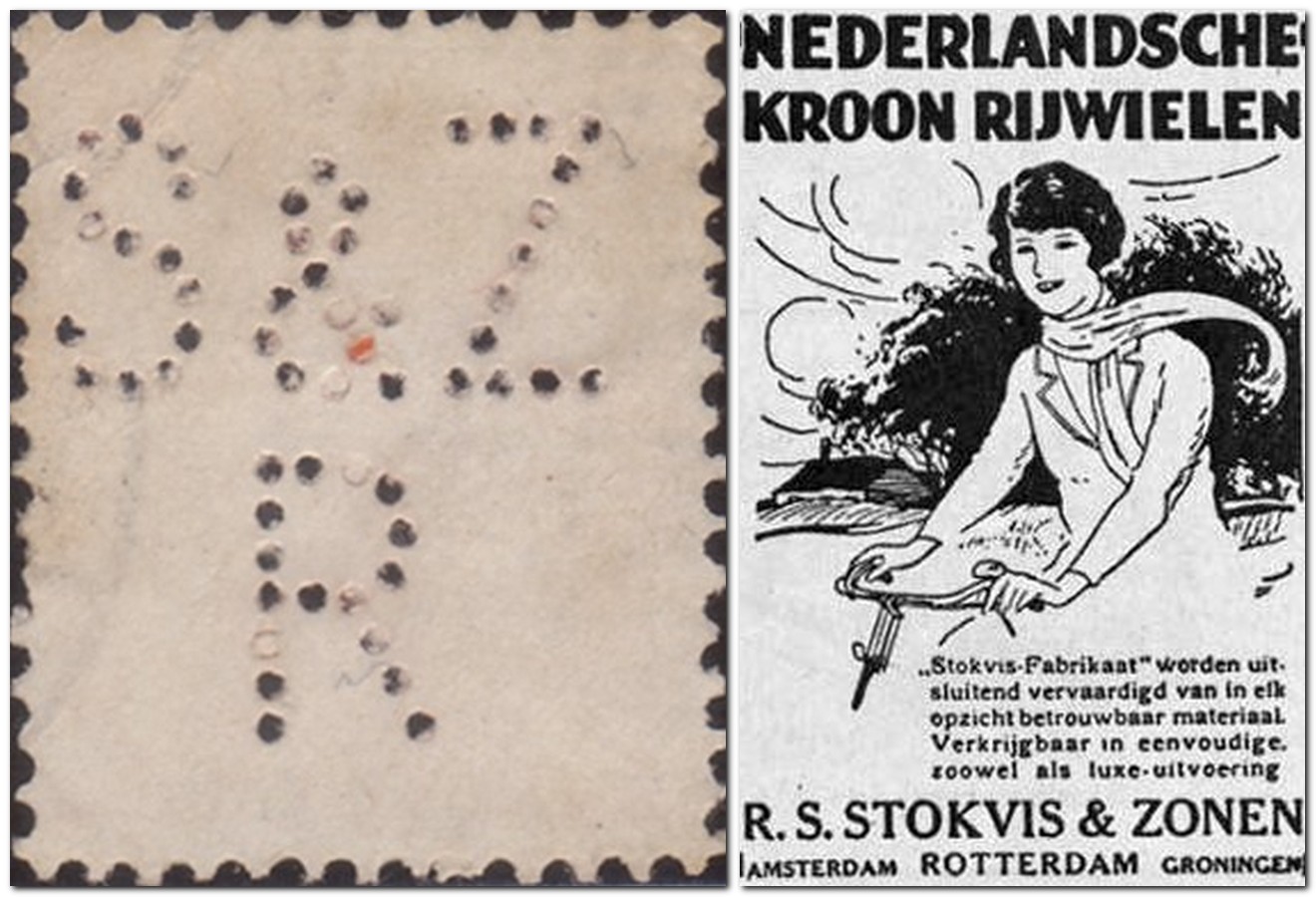 Company perforations or PERFINS: Stokvis
In the publication about perfins in the 100th MFN Newsletter several perfins from Stokvis have already been discussed. But there is news.
In 1844 Rafaël Samuel Stokvis started a trade in "Brabandsche (read Belgian) cast ornaments and other ironware" at the Hang in Rotterdam. His eldest son was already in this branch in Brussels and in 1849, after his return to Rotterdam, expanded the business together with his father into a "Trade in English Ironmongery, Tools and Brabandsche Cast Ornaments in wholesale" under the name "RS Stokvis en Zoon" (RS Stokvis and Son), located at the Delftschevaart in Rotterdam. The "son" is Samuel Raphael, nicknamed S.R. senior. His younger brother Salomon Raphaël, who is S.R. junior, then joined the ranks.
From 1859 the two brothers continued under the name "R.S. Stokvis en Zonen" (R.S. Stokvis and Sons), without their father. In the late 1800s, sons of S.R. senior and junior entered the family business that was converted into a public limited company in 1904: "NV Handelsmaatschappij van R.S. Stokvis en Zonen" (NV Trading Company of R.S. Stokvis and Sons). At its peak, the company had eighteen branches in the Netherlands, later called sales offices.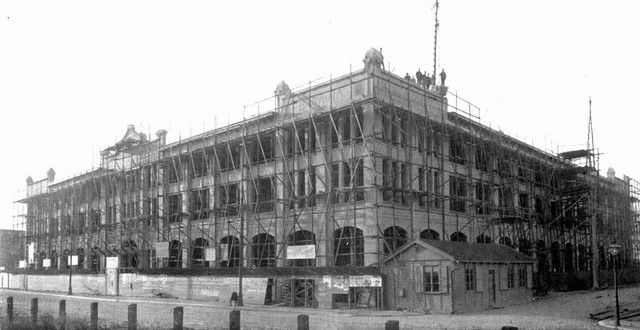 The former office from manufacturer Stokvis on the Westzeedijk 507 in Rotterdam, opened in 1910

NV Handelsmaatschappij van R.S. Stokvis en Zonen.
The trading company imported and sold a wide variety of technical goods, ranging from lubricating materials to consumer products like bicycles and mopeds.

In the course of the 20th century, Stokvis developed a national network of branches with warehouses, as well as a number of regional offices for sales and service. The company itself (headquartered in Rotterdam) had twenty trading departments in the 1950s. Stokvis acquired interests in many industrial companies, of which Van der Heem, established in The Hague, with the brand Erres (= R.S. (Stokvis)), was the best known. Other Stokvis companies were EMI, Indola, and ASW of the brand Fasto (= F(rederik) A(ndré) Sto(kvis), grandson of S.R. junior).
Stokvis, like many other companies, used perforators to perforate its stamps, to prevent theft of the stamps by staff. The first perfin used was the S&ZR abbreviation for Stokvis & Zonen Rotterdam (1904-1962).


Also for the larger branch offices in Amsterdam and Groningen perforators were made. Respectively S&ZG(roningen) (1911–1950) and S&ZA(msterdam) (1912–1964).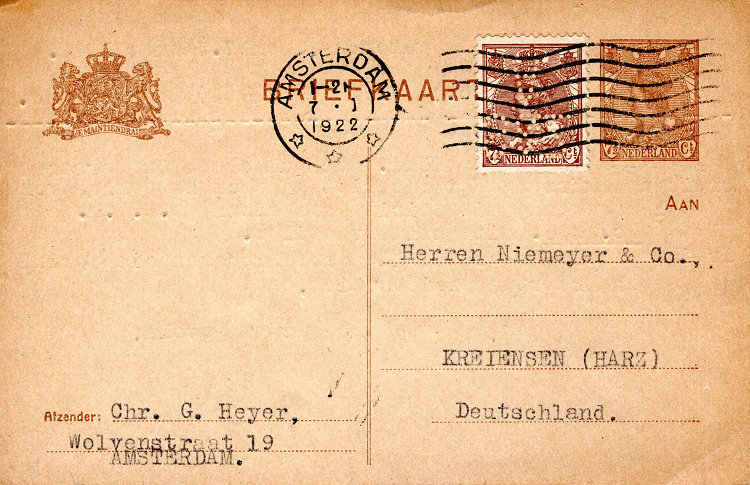 Postcard to Germany, with additional perfin S&ZA as extra postage (tarif 15ct)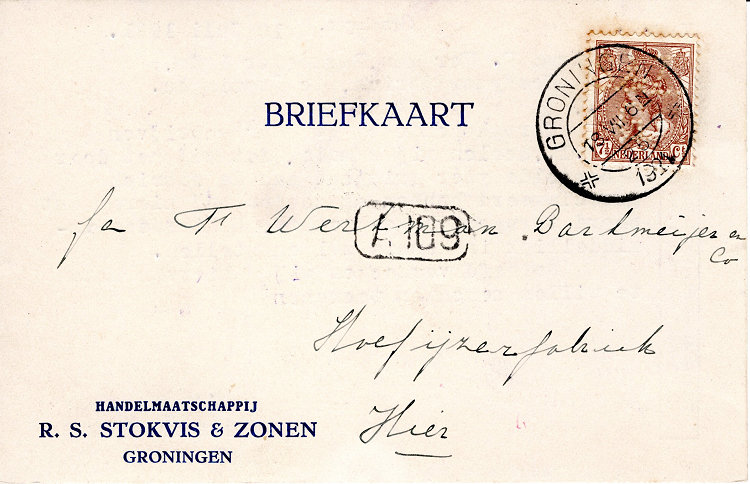 Inland card with perfin S&ZG in stamp with the correct value of 7½ct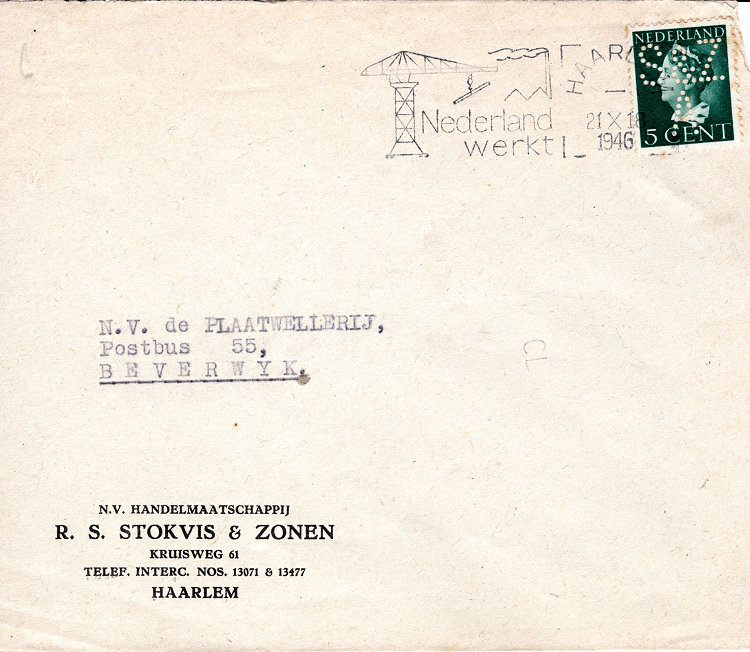 Inland letter with perfin S&ZA in stamp with the correct value

Stokvis companies manufactured Solex mopeds under license from 1948 to July 1967. The engine was built at Van der Heem at the Maanweg in The Hague. The frame construction and final assembly took place at ENAF (Eerste Nederlandse Autorijwiel Fabriek - First Dutch Car Factory), a subsidiary of Van der Heem, also in The Hague. Stokvis took care of the sales.

Apart from that Stokvis also manufactured or imported various other (moped) bicycle brands, such as Amstel, RAP, Zündapp, Mobylette, Kreidler and Puch, as well as the Kroon bicycle brand. Stokvis had thus developed into a conglomerate. The company was also an importer of Framo, DKW, Fargo and Morris trucks and Metropolitan passenger cars.

But then a message came from our member Ad van Tiel. "I have a perfin RSSZ from Stokvis that is not in your overview". I quickly checked the article. Damn yes, this one is not listed. Then I remembered that I still had an article somewhere about an RSSZ perfin from Surabaya. However, the stamp with perfin RSSZ from Ad was a Dutch stamp?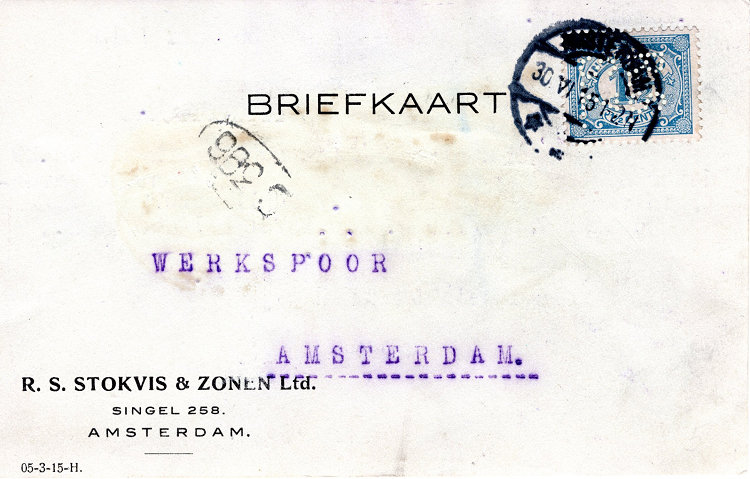 Ad's card with perfin RSSZ (landscape) in Dutch stamp

Not easy to find good advice in this kind of questions. But I know someone who should know the answer to this: Nico van der Lee, member of Perfin Club Netherlands and co-author of the PCN catalog.
His answer: there are two perfins RSSZ. One used in the Netherlands from 1911 to 1964 and a second used in the Dutch East Indies, more specifically in Surabaya, from 1907 to 1912. With both perfins the number of holes for the letters is the same: R(14), S(12 ), S(12) and Z(11). There is also no difference in the height of the perfins, both are 6½ mm high. Thus the origin of the perfin RSSZ, abbreviation of R.S. Stokvis & Zonen, can only be seen from the perforated stamp.

Left perfin RSSZ in NVPH catalogue no. 48, right in NVPH no. 84
In the early years of the 20th century Stokvis had a branch office in the Dutch East Indies in Surabaya. As said the perfin RSSZ has been used over there from 1907 to 1912.

This is the answer to Ad van Tiel's question. The Perfin RSSZ occurs in stamps of the Netherlands and the Dutch East Indies.
While Stokvis Rotterdam and its Dutch branches are known to have imported or manufactured motorcycles, little is known about Stokvis Surabaya. Personally I think that they have not been involved in motorcycle business, and therefore do not belong in the motorcycle collection. But my opinion is not law, so if you want to add them anyway simply ignore it.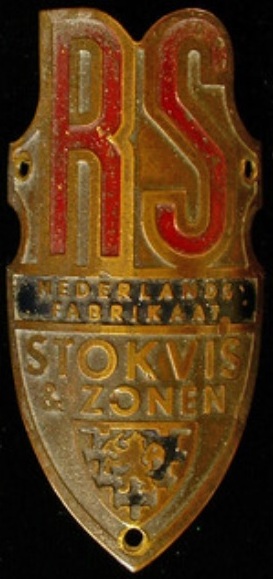 Headplate for Stokvis bicycles, mopeds and Solex
Author: Nico Helling   

Sources:
R. S. Stokvis    Wikipedia NL
Auto-importeurs in Nederland - R.S. Stokvis & Zonen    CONAN Contactgroep Auto- en Motorrijwiel Historie
---
References/External links:
This article was originally published in the newsletter no. 136 of The Dutch Motorcycle Philatelists Club MFN (Motor Filatelisten Nederland) in June 2021: Firmaperforaties oftewel PERFINS - deel 4: Stokvis
BS Magazine - no. 57    page 15

Stokvis model RUGBY: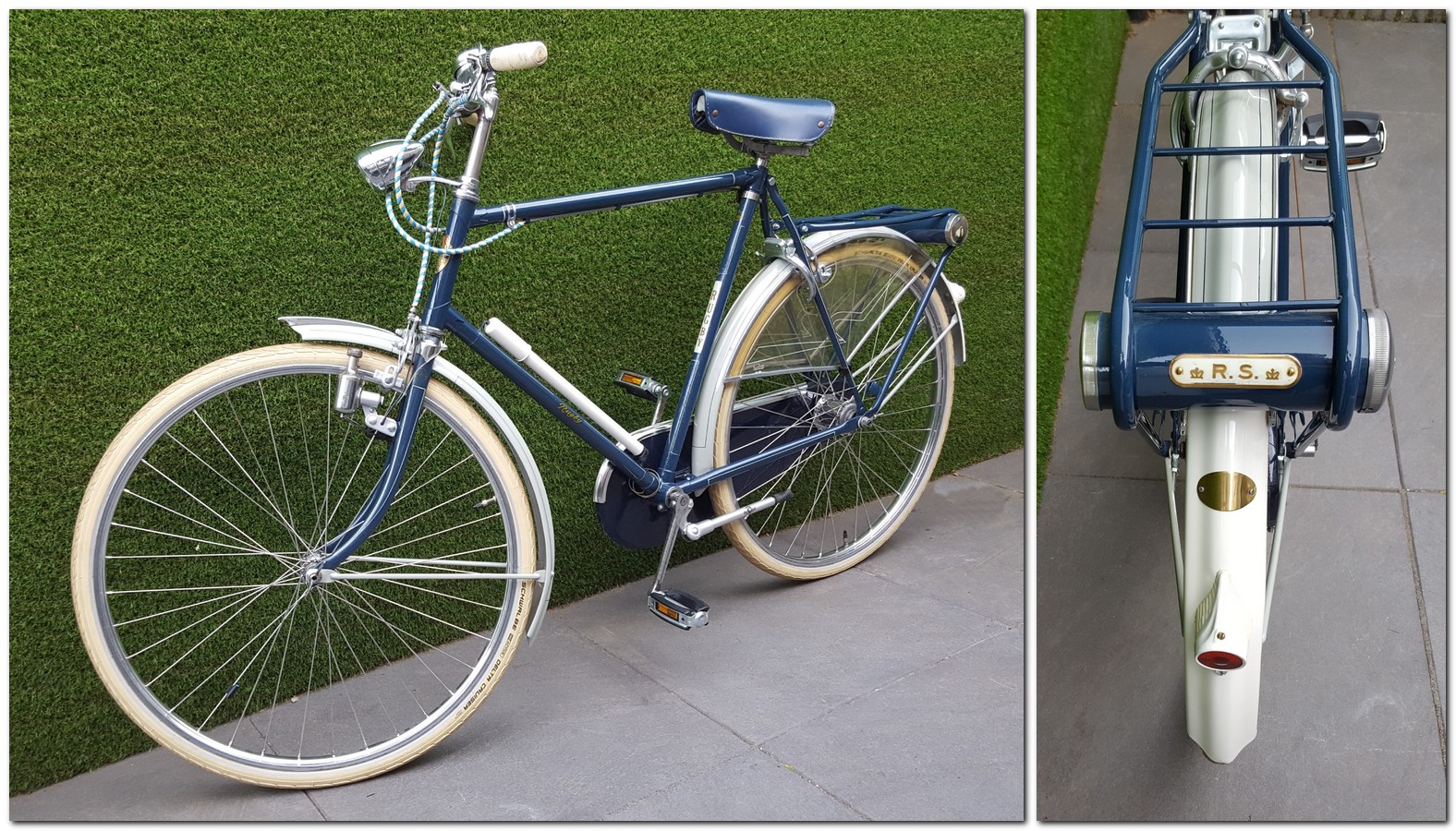 Photo: Brabants Historisch Informatie Centrum "Rijwiel gezocht: Nederlandsche Kroon, type L" by Ed Hagemeijer

In the CATALOG of this website you find these stamps with holes in the category "perfins":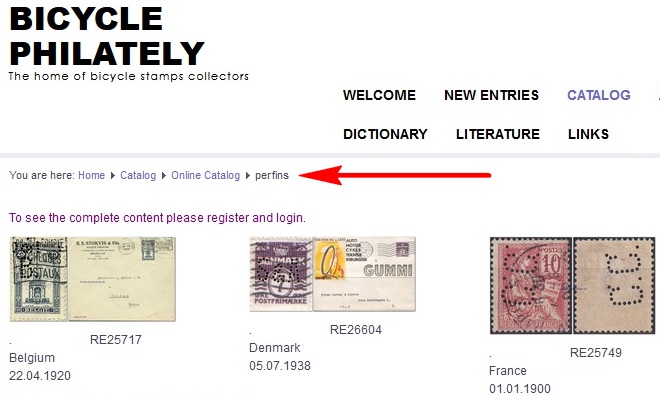 To view all cataloged items ask per email This email address is being protected from spambots. You need JavaScript enabled to view it. for free registration and thereafter you could login and will have full access.